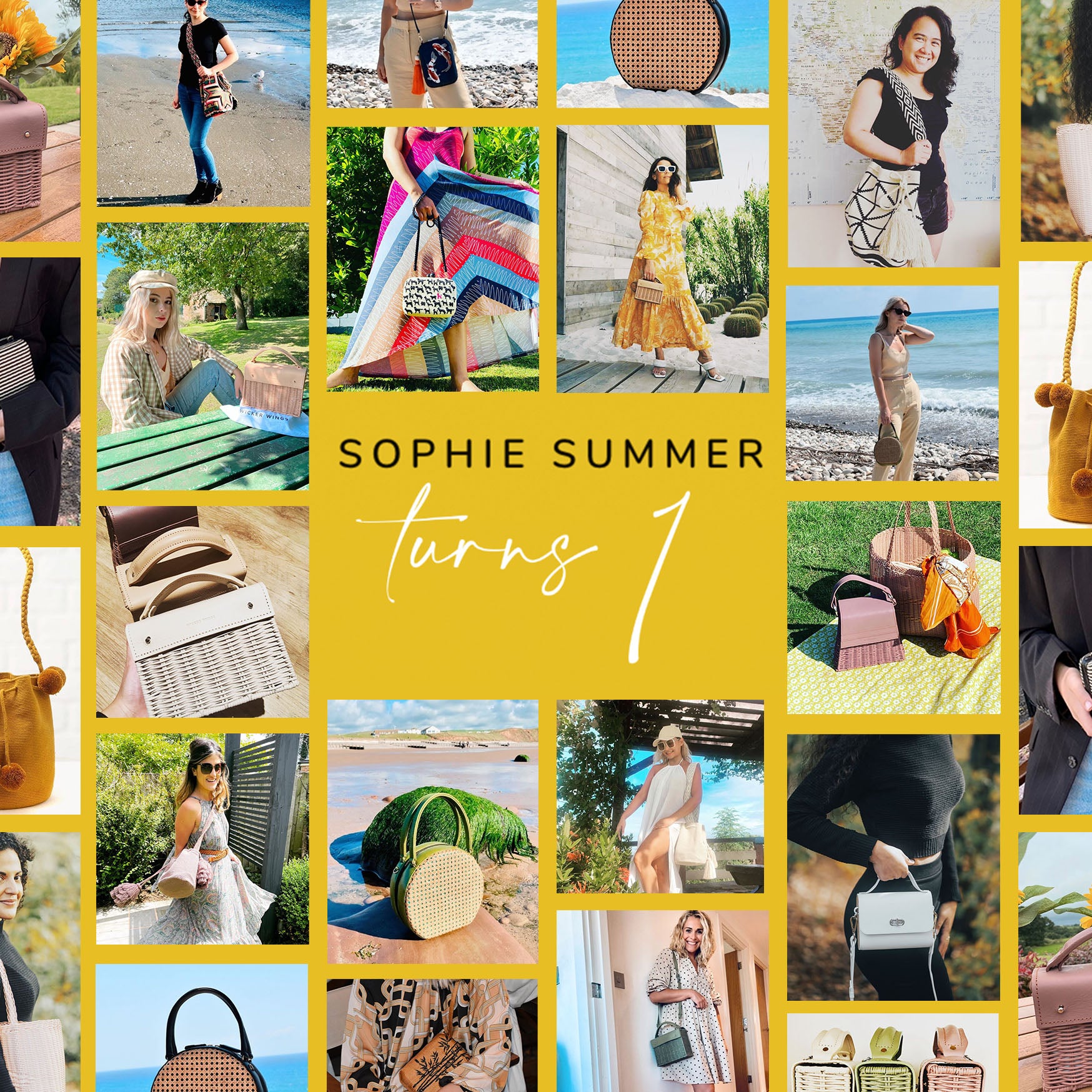 Happy First Birthday to Sophie Summer!
There's big news at the Sophie Summer headquarters - we've just turned one!
That's right, we're celebrating our first year in business, and that means celebrating each and every one of you! Our wonderful customers, our collaborators, our supporters, and, of course, our superstar artisans and independent designers. Without you, there is no Sophie Summer.
We really can't stress how grateful we are for your continued support that has turned Sophie Summer from a daydream into a viable business (with a lot of hard work from our founder and team behind the scenes of course!).
You may have heard that when you buy from a small business, the founders do a happy dance, and we're here to confirm that is absolutely true. 
It's not just the small team at Sophie Summer, either. When you buy a unique piece from us, you are helping to provide a livelihood to a craftsperson or independent designer. Each bag is the result of a collaboration to promote sustainable, slow fashion and traditional techniques. 
Of course, that ping that means a sale has gone through is our favourite business-related sound. But we get almost as excited when we read your positive reviews, or see how you have chosen to style our bags on your Instagram feeds. 
Seeing how much you love Sophie Summer bags is a fantastic feeling and makes us proud to have introduced you to a brand you might otherwise never have seen. Even more simply, we're thrilled that we have brought you joy. 
Positivity is one of our mantras here, but it's not always been easy.
Apologies for the incoming cliches, but it truly has been a rollercoaster ride of emotions since we started this journey back in September 2020 and launched this rather nifty website just a few weeks later.  
To the casual observer, let alone an expert, launching a brand new business in the middle of a global pandemic might seem, how can we put this delicately? A bit bonkers. To do so with a high-end sustainable handbag business which would require shipping from all over the world to the great city of Manchester, at a time when postal delays were common and no one had anywhere to wear said handbags anyway was, perhaps, also a little bit crazy.
Finally, launching a business named 'Sophie Summer' in Autumn might have been the final straw to convince people that we'd lost the plot completely. 
That's why we are so grateful to have already reached some significant milestones. 
Hitting the Ground Running
We had faith, and you rewarded us with your positive comments and amazing feedback. It didn't happen overnight, but slowly but surely, you signed up for our newsletter, read our blogs, took part in our competitions, answered our Instagram story questions and gave some of our beautiful bags a new home. 
September 2020 saw our first ever sale. The site then went live on October 7, 2020 with just three collections - Filipino/Portuguese brand GUSTOKO By Paula Figueras, the Colombian CHILA Bags, and Ukrainian brand KATE • CHI. That month, we also had our first customer from the Middle East.
November was another busy month. We added our first vegan brand, the AppleSkin™ vegan leather collection from Peta Approved London-based B Company LUXTRA. We also shot our first Autumn/Winter photo shoot in Manchester, and gained our first customer from the US. 
In December, as we prepared for a UK lockdown Christmas, we reached 50 email subscribers as word started to spread and you began to take us to your hearts.
Influencers & Media Interest
March 2021 saw the launch of our next collection, a fresh take on wicker from British brand Wicker Wings. We also collaborated with London-based fashion influencer and Sophie Summer fan, laseniorita_joanna.
Our star started to rise further in May, when we were featured by the Manchester Fashion Movement and gained our first customer from Search.
As the temperatures rose and lockdown rules started to relax in June, we collaborated with London fashion and reality TV personality, Juliet Angus. Our founder, Joie Alonso also joined the ManchesterGC Business Growth Hub startup programme.
The fashion gods smiled on us in July, when British Vogue approached us with an opportunity. Ultimately, it wasn't the right time for the business, but it was a huge compliment and a sign that Sophie Summer was making waves. We also had our first pop up store in Manchester that month, in conjunction with the Manchester Fashion Movement, and we're delighted to be part of such an inclusive event filled with creative people and ethical and sustainable small businesses. 
Full Steam Ahead
Last month, we launched our latest brand, the ILHA Rattan Collection, and took a trip to Cyprus to create the rather stunning campaign imagery.
Phew! As you can see, it's all systems go here at Sophie Summer, as we strive to bring you collections from around the world that meet our standards and speak to our souls. That way, we can be reasonably sure they will speak to yours too!
So, what's next? Well, fittingly we've just reached 1000 followers on Instragam - huge thanks to all our lovely followers, please keep your images, comments and reviews coming!
As we head into Autumn and Winter, we'll continue to update the site with relevant blogs, information on what we're working on and any big announcements coming your way.
As we move into our second year, we will look to shine a light on more artisans and independent designers, and continue to ensure all our brands observe the highest ethical work and fair pay practices. We will also continue to look at packaging and delivery options,  to further reduce our carbon footprint. 
As we grow, it is important to us to maintain close links with our customer base, so if you have any questions or just fancy a chat, please don't hesitate to get in touch.
Last, but by no means least, we're coming up with very exciting new collections and collaborations so, as they say, watch this space!
Right, we're off to have a nice slice of cake and spend some time with our families, all that remains to be said is once again a huge thank you to all of you. To one year of Sophie Summer, and to many more, cheers!