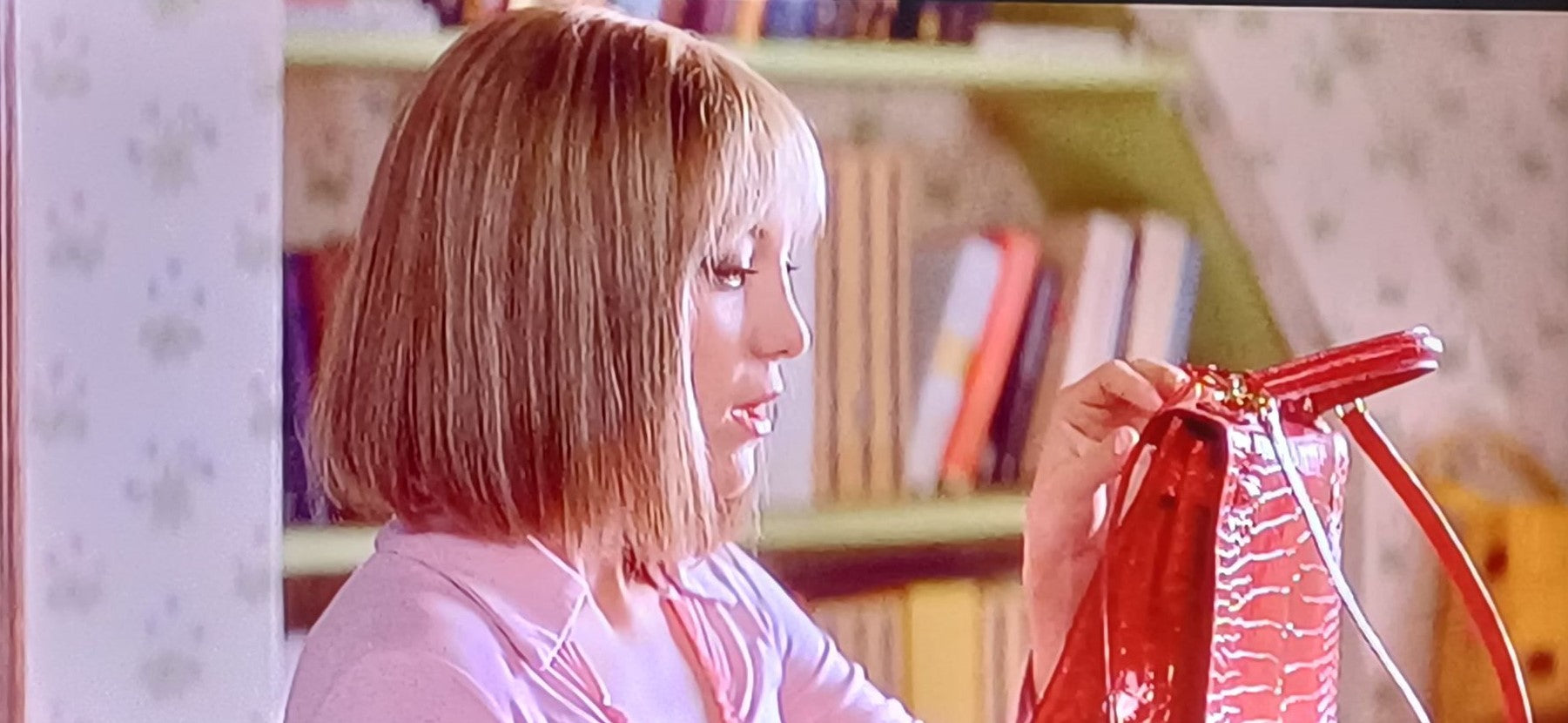 Bags on Film - Iconic Bags From The Movies (PART 3)
When the first two instalments of a narrative become popular, a third outing is almost inevitable. The same is true of our Movie Bags blogs. Both the original  Bags on Film blog, and part 2 of Iconic Bags from the Movies consistently rank among our most viewed content. We've not published a blog in this genre since December last year and frankly, we think we've kept you waiting long enough. So, without further ado, it's lights, camera, and action on Iconic Bags from the Movies part 3!
Pink & White Polka Dot Tote - Legally Blonde 2: Red, White & Blonde (2003)
We're picking up where we left off with one of our honourable mentions - Elle Woods' perfect pink and white polka dot tote, sported in Legally Blonde 2: Red, White & Blonde.
This bag is larger than the cherry number from the first Legally Blonde outing, partly to accommodate a larger Bruiser and partly to indicate a busier, more mature Elle.
The bag accompanies Elle on an exhausting day in Washington and is front and centre when she receives her pink (natch) bejewelled wedding shoes. 
Polka dots are playful yet pulled together (see recent Royal style at Ascot) and are considered both retro and timeless. This is because polka dots never really go out of style, yet are associated with the 1950s and 60s in America. 
Worn with the iconic candy pink 'Jackie O'-style skirt suit and pillar-box hat from the movie poster, this bag is pure 'Elle' letting the audience know that Elle may be older and, perhaps wiser, but she's the same Gemini vegetarian we know and love. And pink is still her signature colour!
If pink is also your signature colour, check out the pretty pastel Wicker Wings Kuai handwoven handbag in pink, or plump for the same model in dusky rose. 
Orange Birkin Bag - The Proposal (2009)
Best known for the infamous naked collision between Ryan Reynold's Andrew Paxton and his 'Satan's Mistress' boss Margaret Tate, 2009's The Proposal is a romantic comedy with more than a dash of slapstick. If that's not enough for you to watch it, the late great Betty White is in fabulous form as Grandma Annie. 
Margaret is an alpha woman. She wears killer heels (Louboutins), dark sunglasses, sharp suits and she carries a Birkin bag. Not just any Birkin, but one in an unusual shade of orange. 
Birkin bags are well established in American pop culture as status symbols, as explained to Rory in Gilmore Girls (ooh - bags from TV shows could be a spin-off blog series?)
Naturally, Margaret can't have any old Birkin. She has to have the most coveted. 
Fun fact - Bullock saved for the bag and bought it after shooting another movie, then used it in The Proposal. We love her even more for this!
Shades of orange and yellow surround Margaret. We first see her exercising in a sports top with orange patches. She wears an orange scarf. Her walls are mustard and the chairs in her office are orange too. Andrew wears a reddy/orange tie because he's in her space.
The Birkin acts as something of a security blanket for Margaret. She grips it tightly whenever she feels most out of her comfort zone - such as at the surprise 'bachelorette party'. 
When they go to Alaska (spoiler alert), she gradually wears softer silhouettes in greens and blues (Andrew's colours) as she begins to let him in.
If you too love a pop of orange and warm colours, look no further than the CHILA BAGS Lunera handwoven vegan bucket bag. The vibrant sunset shades are sure to bring a smile to your face.
Red Crocodile Hermès Kelly - Le Divorce (2003)
We're back in 2003 for Le Divorce, an American/French farce starring Kate Hudson and Naomi Watts as sisters. Accessories play a big part in the film - Glenn Close's American author Olivia Pace even delivers a monologue about all the different ways French women wear scarves - but it is bags, and Hermès Kellys in particular, that have a starring role in the narrative. 
There are so many glorious bags in this film. Seriously, even the non-speaking extras are carrying beautiful totes and satchels at the book signing.
Isabel's (Hudson) style starts off rather bohemian, with long loose flowing hair and oversized wicker totes with pops of colour. Once she sets her sights on the charming older Edgar Cosset, that all changes. She turns up to meet him with a tres chic long bob, tailored clothes and red lipstick. The two embark on an affair and Cosset sends Isabel a red Hermès Kelly bag. This turns out to be his signature gift when starting an affair. When his interest wanes, he presents the woman with a beautiful scarf.
Isabel assures worried sister Roxeanne (Watts) that "it's a present, not a bribe or payment." She then wears it with every outfit at every location, discretion be damned, because it's beautiful.
We won't spoil the plot, but the final act shows the Kelly floating through the air as the narrative's loose ends are tied up. Isabel then gives it to her mother, played by the ever wonderful but underused Stockard Channing who comments that it really is more suited to a middle-aged woman, perhaps as Cosset himself is?
If you want to emulate the classic French style, we'd recommend the GUSTOKO By Paula Figueras Sash clutch bag. Handcrafted from Tinalak and straw in an elegant monochromatic stripe, it features a mother-of-pearl clasp and leather trims. It's timeless, tres chic, and tres you! 
Honourable mentions:
Almost Famous  - Penny Lane's bags for different personas

Confessions of A Shopaholic - Becky Bloomfield's extensive bag collection

House of Gucci - oh so many!
So there you have it, some more tasty morsels of arm-candy from the movies. Whether this blog completes the trilogy or will spawn more sequels remains to be seen. 
In the meantime, you can browse the whole collection of beautiful ethically-made handbags. 
Have you seen any fabulous fashions and iconic bags in movies we might have missed? Let us know in the comments. Merci!