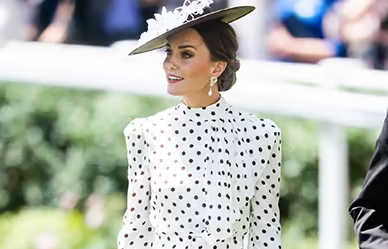 Style Watch: See the Trends at Royal Ascot 2022
The 2022 race season is well underway, with the most famous event, Royal Ascot taking place from June 14th - 18th. Traditionally the Thursday of Royal Ascot week is known as 'Ladies Day', however, this is no longer an official title. 
We've previously offered some pointers on what to wear for a day at the races so this time, we thought we'd round up some of our favourite looks from the week.  
Some of the key trends of 2021 endured, with florals, bold hues, pastels, and pinks all having a strong showing. This year, they were joined by purple, 'matchy matchy' and an altogether bolder, more theatrical feel to the outfits. This theatricality can be seen in the striking black dress chosen by Call The Midwife Actress Helen George, which featured a bold yet intricate pattern in an earthy palette of green, mustard, sky blue and white. 
The dress code was relaxed due to the heat and changing fashions, with the Royal Ascot Style Guide offering up mini skirts and Cuban shirts, at least for the less strict enclosures. 
The Independent focused on the flamboyant headwear on display, including oversized flowers, feathers, birds and even a Union Jack. Both Tatler and Hello! gave us their definitive best-dressed lists. 
Polkadots Fit Princess or a Duchess!
The Duchess of Cambridge looked impeccable in a high-necked white Alessandra Rich dress with brown polka dots, accessorised with a matching brown straw hat with white flowers and a neutral bag and shoes. Kate also wore jewellery that formerly belonged to the late Diana, Princess of Wales, her diamond and South Sea pearl earrings. 
Princess Beatrice also went for polka dots, with a black and white polka dot Saloni Lodha dress adorned with silver bows, accessorised with a black snake leather handbag, black court shoes and a black and white hat. For a small taste of the monochrome look, the GUSTOKO Sash Clutch is one of our bestellers and offers a compact style with a mother-of-pearl closure and snake leather trim.
Another look from Princess Beatrice featured a pretty white floral dress with a woven belt, personalised woven handbag and matching straw hat. You can achieve a similar look with our ILHA Francesca woven rattan handmade leather-trimmed shoulder bag in grey. 
It wasn't just the Royals who put their best fashion foot forward. 
TV presenter Charlotte Hawkins always brings her fashion A-Game to Royal Ascot, and this year was no exception with not one, two, three or even four, but five fabulous ensembles. Charlotte's looks ranged from the pale blue 'Cinderella' dress as seen in Hello! to coordinated aqua to a cobalt and fuschia floral number accessorised with a matching hot pink bag hat and heels.
However, it was Charlotte's red and navy printed belted dress with matching strappy shoes and two-tone hat that we loved most. It combined elegance with fun and colour, just like the unique GUSTOKO Mei Clutch. However, the leaves and branches pattern put us in mind of the bestselling Kaya Clutch, also by GUSTOKO by Paula Figueras. 
Pink!
Whereas last year it was Fuschia that dominated at Royal Ascot, this year, we saw a spectrum of pinks ranging from the palest blush to candy pink and dusky rose all the way to hot pink.
Model Maria Ann Gardner was resplendent in a one-of-a-kind creation by independent bridal designer Greta Bridal. The dress was sheer with a pale pink patterned overlay, creating a blossom-like effect. Featuring a sweetheart neckline, full skirt, and ribbon straps, the dress was worn with a wide brimmed pink hat.
The Wicker Wings Kuai vegetable-tanned leather bag in pink would complement this look perfectly.   
TV presenter Holly Willoughby also went for pink, with an elegant sheath featuring a large bow sitting pretty on her decolletage. Holly paired the Susannah London dress with a chic Philip Tracey hat featuring tonal pink roses and neutral shoes. 
TV personality Maya Jama combined several trends with her Victorianesque high-necked, long-sleeved mottled pink floral Zimmerman dress, which featured tiered ruffles and subtle glittering embellishments. She finished the look with a floral Fuschia headpiece, metallic shoes and bag and pale pink nails. 
Dusky Rose
Model and TV presenter Rosie Tapner wore a number of gorgeous outfits, including a mint green hat and white embellished suit by the late designer Catherine Walker, a bold yellow and green floral dress from Suzannah London, and a Fuschia skater dress by Laura Green London. However, it was the retro Lisa Redman cream dress with pops of dusky rose that was our favourite. The button top, contrasting collar, cuffs and waist belt and flowing skirt transformed Rosie into a vintage dream.
The floral hat by Rachel Trevor Morgan was almost the same shade as our beautiful Wicker Wings Kuai vegetable-tanned leather handmade bag in Dusk. 
Colour Glorious Colour
It wasn't just pink that was turning heads. Purple, green, red, yellow and orange were also on display.
Strictly Come Dancing two-time champion turned TV presenter Oti Mabuse looked stunning in Emerald Green Satin with Fuschia accessories. 
Milliner Victoria Grant also went for green, with a zingy lime almost chartreuse satin trouser suit, accessorized with a feminie top hat in hot pink, complete with black feathers, a large brooch and black net. Grant was responsible for some of the day's most showstopping headpieces, such as the orange feathered creation worn by British Vogue contributing editor Susan Bender Whitfield which perfectly complimented her bright patterned Fendi dress.
The Home Genie presenter Georgina Burnett also drew the eye, with a vibrant pink and canary yellow pallett tied together with this wonderful mesh hat.  
Fans of such bright hues should keep an eye out for our AAKS bags!
In the meantime, you can shop the existing collection of Sophie Summer bags, and don't forget to check out our sale to see if you can bag yourself a bargain.