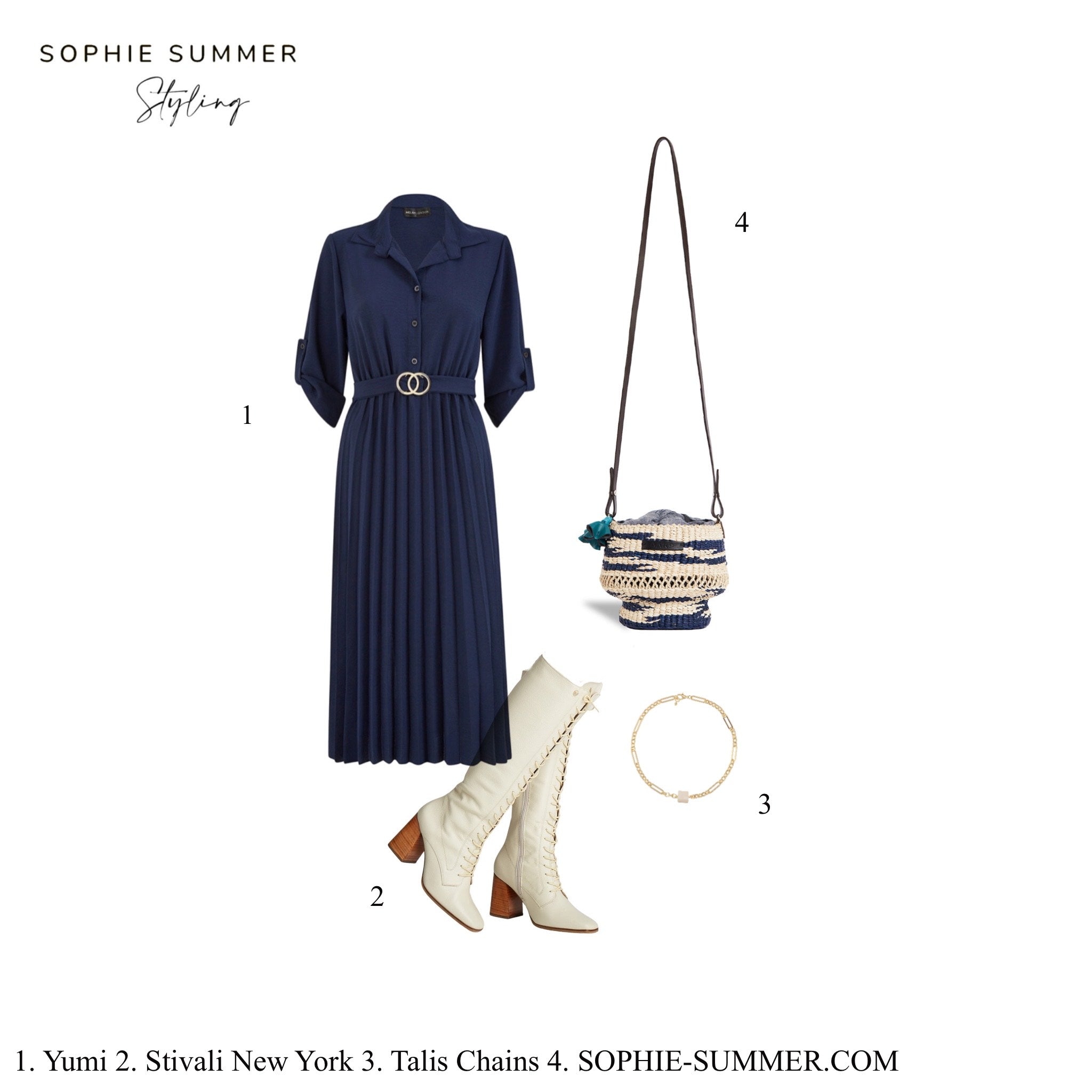 Transitional Looks for Sustainable Style This Autumn
It's officially Autumn here in the UK, and the Sophie Summer team is thinking about how to dress for the new season. 
After the heatwaves of this year's long hot summer, some of us are quite looking forward to snuggly jumpers, big coats, and (faux) furry boots. But we're not there yet.
The clocks have gone back, Bonfire Night has come and gone, and there are less than seven weeks until Christmas. Yet it's not that cold. At least, not during the day. It's getting chilly in the evenings, but some days it's positively warm, even hot with highs of 20 degrees not too long ago.
Not only is this extremely worrying from a climate perspective, but it also presents challenges when trying to dress weather appropriately. 
The usual advice when faced with a conundrum such as this, is 'light layers'. But how does that translate to dressing for work or social occasions? What are the key pieces we keep hearing we need? And how do we style them?
Don't worry, guest stylist Sophie Scott has returned to curate three fabulous looks based on Autumnal staples. We hope they help you with that tricky Summer to Autumn wardrobe transition. 
The Classic Trench Coat
First up, it's an item everyone should have in their wardrobes, a belted trench coat. Bonus points if it's camel. The statement pleated shoulders trench coat from Lita Couture is a cut above. Handcrafted in the finest, sustainable atelier and handsewn, it offers a fresh take while denoting vintage elegance. The double-breasted closure, D-ring belt and generous lapels create a streamlined silhouette to elevate any outfit. We've gone for this funky 'Marianne' knit mini skirt from Daige. Sixties-style with an A-line cut, high waist and a retro lavender, chocolate brown and mango asymmetric waves design. Since the skirt is such a showstopper, we've paired it with this lightweight Sheridan cashmere blend turtleneck from purveyors of sustainable basics, Theo + George. Beautiful black vegan leather over-the-knee heeled boots from Sylth Virago at Lyst.com match this sophisticated yet fun autumnal ensemble. An outfit this strong only needs a simple and elegant bag, which is precisely why we've gone for the ILHA Francesca handmade shoulder bag in natural rattan with black leather trim and tassel detailing. 
The Stylish Shirt Dress
This beautiful pleated navy shirt dress from Yumi looks professional yet relaxed and can be dressed up or down, depending on your preference. Made from lightweight fabric with turned-up sleeves and a built-in waistbelt, it is available in two lengths and various colours for a sophisticated smart-casual look. We've teamed it with these stunning ethically handmade leather Renaissance boots from Stivali New York and our A A K S Baw Pot wavy handwoven raffia mini bucket bag. Knee-high boots are another Autumn staple, and these ivory leather lace-up beauties are an investment. Like the boots, the A A K S Baw pot bag is as durable as it is attractive, perfect for changeable weather. The final touch is an elegant 'New York Choker' in ivory from Talis Chains featuring 18-carat gold plating and a square ivory Formica bead.
The Brilliant Boilersuit
Our third look is based around this marvellous maroon jumpsuit from Mirla Beane. Made in Britain from natural, organic, and recycled materials, this utilitarian-style cotton/spandex jumpsuit is cool and comfortable yet warm and relaxed. You also have the option to add a coordinating polo neck if there's a chill in the air. Following the utilitarian theme, we've paired the jumpsuit with these handmade black 'Soldier' boots from Zanzura. The look is softened by this snuggly cream-coloured faux shearling coat with tan details from Issy London. Midlength with a zip fastening and buckle collar for added warmth, this timeless style is perfect for wearing over trousers, skirts, and dresses of all lengths and styles. A coordinating bag such as the CHILA BAGS Sierra handmade shoulder bag. Woven in complementary shades of stone and beige, with an 'F' design and gold stud details, it suits this relaxed look to a T. 
The Essential Eco-Friendly Umbrella
There's one Autumn staple we haven't included here that we definitely endorse, and that's an umbrella.
Photo by Aline de Nadai
Being based in Manchester, we may have a slightly skewed view of how often it rains in the UK, but we're big advocates for umbrellas.
For those trying to create a sustainable wardrobe, umbrellas can be a source of frustration. One strong wind or driving rain and your umbrella may well be useless. Once it's broken, it's nearly impossible to adequately repair an umbrella, and the different components mean most can't be recycled.
Research suggests that around 1.1 billion umbrellas are thrown away annually, leading to nine hundred million in landfills worldwide.
But clever and ethical designers are trying to change this. From manufacturing umbrellas out of recycled plastic bottles to strengthening the umbrella's 'ribs' to limit damage from higher wind speeds, the new generation of umbrellas is increasingly ethical and sustainable.
Including portable designs, umbrellas for children, those built to last and even those designed by a former weatherman, check out Treehugger's recommendations for the best eco-friendly umbrellas. 
We hope we've provided you with some inspiration for transitional looks to try this Autumn. Remember, the most important thing is to be comfortable, wear what makes you happy and shop consciously. Look in your own wardrobe first for forgotten gems, and anything that can be repaired or revamped if it is looking a little dated. 
If you love a pair of boots but have worn down the heels, consider taking them to a cobbler, such as Timpson, to be reheeled before you buy new ones. They can also resole shoes and boots to give you years more wear. Many branches also offer clothing repairs. Second-hand sites such as Thrift, Vinted, and eBay are goldmines for both basics and designer bargains.
It is ok to treat yourself once in a while, and buy new, but try to opt for an ethical brand.
If you are looking for a new bag for the new season, you can check out our entire collection of ethically-made handbags or visit our sale.