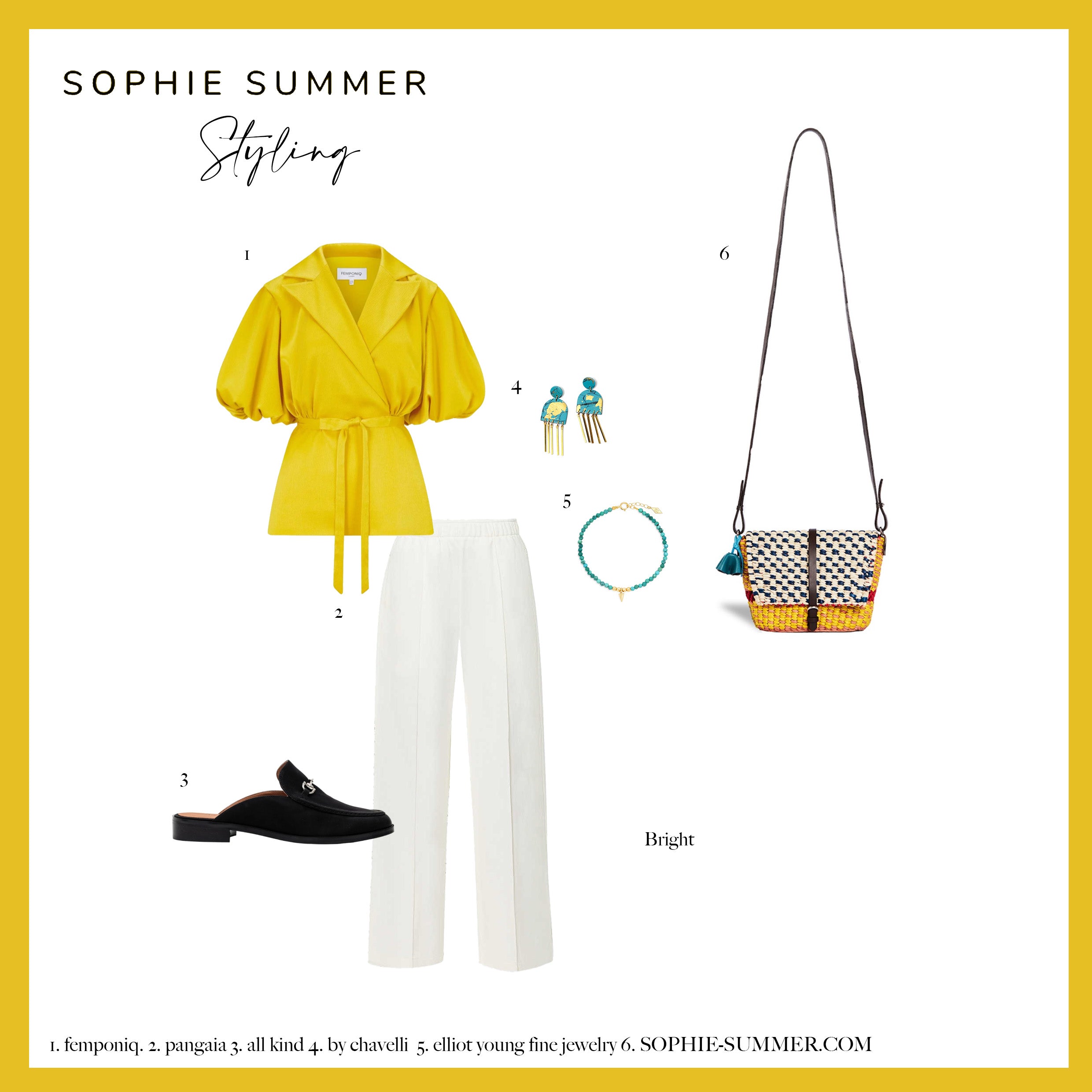 Perennial Trends for Sustainable Style
'Perennial trends' may seem like an oxymoron, after all, aren't trends, by definition, fleeting? Well, yes and no. Some looks, colours, and patterns never go out of style. 
We've previously shared our style inspiration for sustainable spring fashions 2022, but now we're going to look at a couple of those 'trends' that recur every year during the warmer months. 
Our style guru extraordinaire Sophie Scott, has once again styled some beautiful looks, based on the following key themes or 'trends' that always come around:
Nautical

Tonal

Brights

Yellow

Ethnic/Handcrafted
So, let's dive straight in and break down each look, so you can make it work for you. 
Nautical but Nice
Nautical isn't just a look for Summer of course, but there is a certain synergy to the idea of strolling along sun-soaked piers, straw hat in hand and decked out in sophisticated stripes in navy or red, and white. 
This gorgeous dress from nissa at Wolf and Badger offers a grown-up take on the wide sailor collar, with gold thread and contrasting buttons. The details make it feel 'now', but the midlength and elegant stripe make it a timeless classic. 
We've paired this infinitely wearable dress with cute white trainers from Danish sustainable luxury brand 1 People, and retro sunglasses from Curry & Paxton. Our effortlessly stylish Handowoven Nina Vegan Bucket Bag from Chila Classics is the perfect neutral bag to finish the look and we've kept jewellery to a minimum with these beautiful earrings from lolaknight. 
Tonality 
The idea of wearing different shades in a similar colour palette is not exclusive to the warmer months either but, in particular, we are thinking of ocean shades such as blue and teal. 
Wearing shades from the sea has a psychological effect of serenity and harmony, feelings we could all use more of in our lives. A tonal look is also effortlessly striking, epitomised by this Marianne slinky satin slip dress in cobalt and teal from Omnes. Made using 100% recycled polyester, this 90s-inspired beauty is as good for the environment as it will look on you. We'd wear it with these cream loafers from Dune and the obligatory delicate necklace, such as this golden piece from missoma. The bucket bag pairs well with any slip dress, and the Elif Small handwoven bucket bag from our new range of CHILA Bags is the perfect colour match. Sling on a cropped denim jacket for chillier evenings for ultimate 1990s chic. 
Bright and Beautiful
Summer heat makes us happier and, often, braver. Whether it's the golden tinge to our skin and hair or the prospect of holidays, we're more likely to move out of our fashion comfort zone and opt for brighter colours. Colour blocking, particularly in orange may sound scary, but it's actually an incredibly wearable shade representing joy, heat, health and creativity - what's not to like? 
Not convinced? Feast your eyes on this gorgeous orange suit from the Romanian brand bluzat. Comprising an oversized jacket and flared shorts with a flirty hem in linen, it's a joyous outfit all by itself. You can slip a contrasting cami or crop top underneath for everyday wear.  
Depending on how bold you are feeling, you can pair two brights together, with some neutral accents to stop the look from becoming overpowering. The CHILA BAGS Handwoven Lunera Bucket Bag, does the hard work for you, pairing burnt orange and hot pink with a natural stone shade to call to mind sultry evenings and vibrant sunsets. The long shoulder straps make it perfect for day or night, while the unique pattern is playful yet speaks of far-flung shores. Taking our cue from the Lunera, we've finished the look with these vegan nude heels from all kind and these Fuschia teardrop earrings from pequitobun jewellery. 
Yellow
It probably hasn't escaped your notice that we're big fans of yellow here at Sophie Summer. It is the colour we chose for our branding, the literal backdrop to our logo and our ethos. Yellow represents energy, activity, and confidence. It symbolises happiness, optimism, and inspiration. It is the colour of sunshine, lemons, daffodils, and baby chicks. 
As such, it may not be your first choice for a professional outfit. It may surprise you to learn that yellow is also associated with intelligence, alertness, power, intuition, and wisdom. 
The rich golden yellow of this Draped Sleeve Satin Blouse from femponiq is both uplifting and empowering, making it perfect for the boardroom, drinks, or a dinner date. Paired with these 100% cotton tailored trousers in crisp white from PANGAIA and a relaxed backless loafer such as these from all kind, you can go anywhere and do anything. 
That's not to say you can't add some more yellow and other power colours into the mix. The turquoise accents in our new Bika Yellow crossbody shoulder bag from our new range of A A K S bags are picked up in the statement earrings from By Chavelli and a complementary choker by Elliot Young Fine Jewelry.
Ethnic/Handcrafted
Last but by no means least, the appreciation (not appropriation) of different cultures and styles will never go out of fashion. 
Buying handmade cultural pieces such as a bag from Sophie Summer means you get to take home a piece of wearable art and tradition while also helping to preserve a livelihood and way of life somewhere in the world.
The A A K S Hana Mini leather-trimmed crossbody bag is handcrafted in Ghana from woven raffia in a bold pattern with side fringe detailing. Similarly, these embroidered Coral mules from House of Zalo are handcrafted from natural raffia in a limited run to pay homage to their Cuban roots.
Keep the rest of your outfit simple but in sync, with a soft and flowy maxi skirt such as this gem from Australian brand Bonita Collective and a white shirt tied at the waist from Egyptian design house MAMZI. We've finished the look with earrings from Aflé Bijoux and an elegant watch from Cyssan.
There are, of course, many more trends that recur each year, from monochrome and denim to 'groundbreaking' florals, but we hope we've provided you with inspiration for Spring/Summer looks that are fresh and sophisticated year upon year. 
We'd love to see how you wear our bags so don't forget to tag us on Instagram @sophiesummerhandbags. Happy styling!