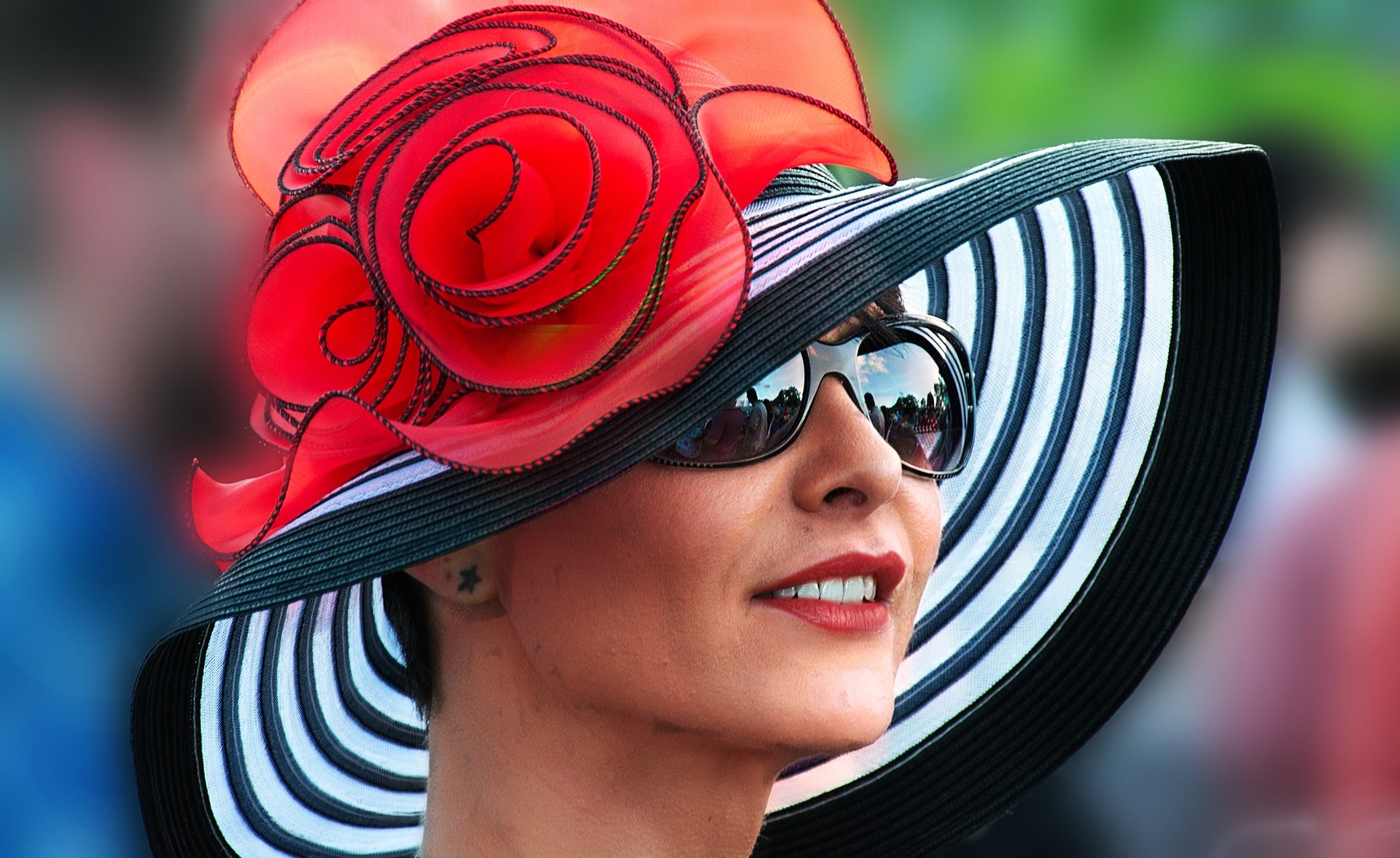 What to Wear for a Day at the Races
British Racing Season is a series of events at which to see and be seen. As the best and brightest of the racing world compete, spectators dress to impress. The aristocracy, socialites, and celebrities are all regulars at racing events, and the nation's media pronounces the best dressed, in much the same way as a red carpet event. 
Knowing their outfits, hair and makeup will be scrutinised means guests are determined to get their looks just right. It is not just celebrities who are hoping to stand out from the crowd. There are 'Best Dressed' competitions on 'Ladies Day' at all of the big races, and attendees go all out.
While certain events may have been postponed or cancelled in areas with a high Covid-R rate, there are plenty of meets still set to take place over the coming months. The flat season doesn't finish until September, with the St Leger at Doncaster. There are potentially three months left of race meets and, particularly coming out of lockdown, this season's clothes are a celebration of fashion and freedom of expression.
The pinnacle of the flat racing season is Royal Ascot in June, with Ladies Day being held on the Thursday of Ascot week each year. Throughout the rest of the season, women may try to emulate looks seen at Royal Ascot Ladies Day. 
Taking Inspiration from the Royal Ascot Dress Code
For the last ten years, Royal Ascot has produced its own online guide on what to wear, depending on whether you are in the Royal Enclosure or the Queen Anne Enclosure. This year, the theme was sustainability - we approve!
Royal Enclosure
If you are in the Royal Enclosure, the dress code is strict for both sexes. Gentlemen are instructed to wear a morning suit of black, grey, or navy, including dress trousers, waistcoat and tie, top hat and tails, and black dress shoes with socks. Only discreet, tasteful or small patriotic patterns are permitted, and only on the waistcoats. No bowties or cravats are acceptable either.  
There is more leeway for ladies, who can wear dresses, skirts and tops, trouser suits or jumpsuits and are not restricted in colours or patterns. However, dresses, skirts, trousers and jumpsuits must all fall below the knee. For tops and dresses, nothing strapless, halter neck, off the shoulder or with straps thinner than one inch is permitted. Sheer straps and sleeves are also off the menu. Hats must be worn, but a headpiece with a solid base of at least 4 inches is permitted. Fascinators are not acceptable. 
Photo by Rawisara Prachaksubhanit on Unsplash
Queen Anne Enclosure
The Queen Anne Enclosure dress code is less restrictive and closer to what you would wear for a day at the races.
Men must wear a suit, shirt and tie with socks which cover the ankle and smart shoes or boots. Women can choose between a hat or a fascinator but, otherwise, most of the Royal Enclosure restrictions apply, although dress and skirt lengths and strap widths are no longer explicitly stated. 
Ladies Day 2021 Themes & Trends
Royal Ascot 2021 saw some key trends come to the fore, with an emphasis on bright colours, bold florals, pretty pastels, and black. 
Flowers
Florals for spring may be denigrated by Miranda Priestly in The Devil Wears Prada, but this Summer's florals are bigger, bolder, and brighter. 
Former Strictly Come Dancing professional dancer Janette Manrara has just been announced as Zoe Ball's replacement presenter for Strictly spin-off show, It Takes Two and looked every inch the star on Ladies Day. Janette's eye-catching red, pink and black floral maxi dress embraced two of this year's major trends, floral and Fuschia, while staying true to her Latin roots. Other ladies sporting florals included The Countess of Wessex and Zara Tindall.  
Fuschia & Black
There was lots of colour on display at Ladies Day, such as Princess Anne's sunny yellow ensemble, and presenter Charlotte Hawkins pale pink skirt with candy-coloured pleats, but the dominant hue was Fuschia. 
Charlotte's shoes and hat were Fuschia, Milliner Victoria Grant wore a fuchsia suit with matching feathered fuchsia hat and fashion stylist Nicole Smallwood plumped for a De La Vali hot pink maxi dress paired with black accessories. Meanwhile, dating app entrepreneur Valerie Stark went for a black belted Valentino jumpsuit with Fuschia heels and a Fuschia hat featuring black netting.
The playfully stylish Orly Clutch from GUSTOKO by Paula Figueras with its monochrome design and Fuschia tassel would be a perfect nod to this trend. 
Pastels & Neutrals
Other stars made an impact in softer shades. Celebrity chef Emma Weymouth looked classy in a pale coffee-coloured lace dress with matching accessories, while actress Ophelia Lovibond paired a floaty pale blue ankle-length wrap dress with an angled straw-coloured hat featuring large purple blooms for a modern romantic look.  
The grown-up pastel hues of the Wicker Wings collection make them the ideal choice to complement sugared almond shades and neutral tones.  
What to Wear
Those are the trends for this season, but as long as you dress 'appropriately' and follow any dress code specific to the racecourse, you should be fine. 
There is definitely an element of 'form over function' about a races outfit, but you should make sure you feel fabulous in everything you have chosen, as well as looking it. 
Suited & Booted v Top Hat & Tails
Although top hats and tails are not mandatory for men at other race meets, you will still see plenty on show.  Likewise, fascinators are perfectly acceptable headwear for ladies, but if you love a good hat, then the races are the perfect occasion to wear one.
 Image by Booth Kates from Pixabay 
Women Who Wear the Trousers
Then there's the main attire. While dresses still reign on the races circuit, jumpsuits and trouser suits are modern alternatives for women who prefer a tailored style. Keep them below the knee and coordinate your accessories.  
If you do go for a dress, knee-length, calf-length or ankle-length are the chicest options. Go for a simple and modest neckline and carry a jacket or pashmina, if your outfit has short sleeves. 
As ever, accessories are key to pulling your look together.
Well-heeled 
Women tend to wear heels for races, but that's not to say you have to plump for stilettos. Kitten heels will look elegant while keeping your feet firmly on the ground, while a chunkier heel such as a Mary Jane shoe looks classic and appropriate.  You could also wear ballet pumps, just make sure they are embellished or in a sumptuous material such as satin or lace. 
Top tip - If you are wearing heels, a pair of folding flats or flip flops will be a godsend, particularly if you are moving on to another venue after the races finish. 
 Photo by James Ampong Quilario from Pexels
Arm Candy
Our favourite part. If we do say so ourselves, Sophie Summer bags were made for special occasions such as the races. 
If your outfit is simple, you can wow with an embellished clutch, such as the Mei, or Kaya hand-embroidered clutches from GUSTOKO by Paula Figueras. 
If, on the other hand, you don't want your bag your ensemble, try the modern elegance of a KATE • CHI handbag in white or beige. 
Don't forget to bring a coordinating mask, and a stylish umbrella or parasol is never a bad idea when dealing with a British Summer. 
However you choose to dress, we hope you have a wonderful time!
*Featured image courtesy of Official Ascot & Royal Ascot