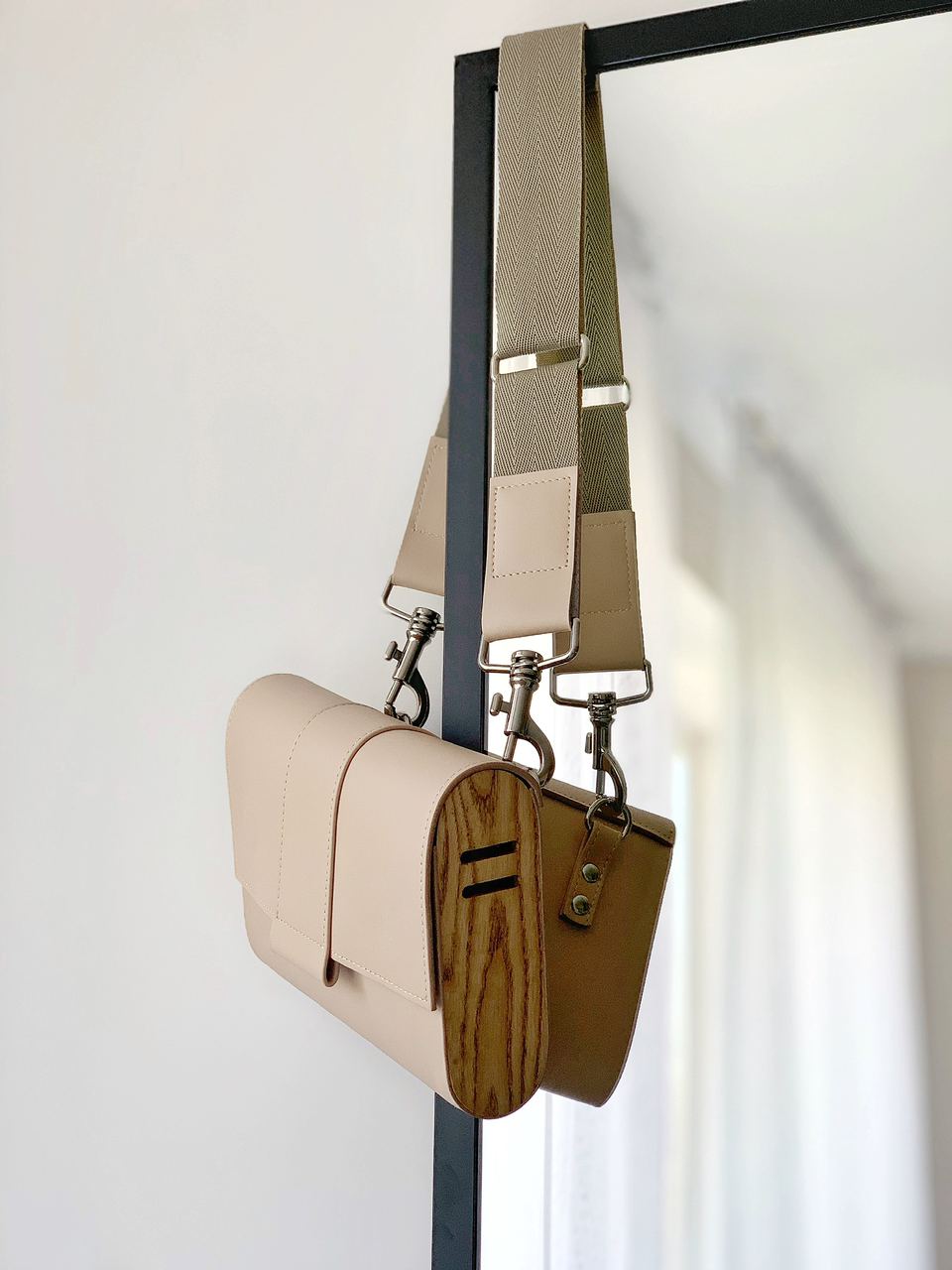 Working With Wood - Spotlight on Ukrainian Designer KATE • CHI
At Sophie Summer, we try to showcase beautiful ethical handbags from around the world, but we also aim to bring you the stories behind these amazing creations.
Words such as 'handcrafted handbags' may paint a picture in your mind that may not be accurate to all the different types of handmade bags we have here. 
When people think of handcrafted handbags, they might expect something woven, a rustic creation that is immediately identifiable as handmade and shows strong cultural, perhaps ethnic roots. Of course, many handmade bags do fit this description, to striking effect.
Indeed, previous Sophie Summer blogs have focused on traditional techniques of handbag making, and we certainly champion keeping such generations-old methods alive.
However, we also look to highlight contemporary styles and innovations, particularly when it comes to repurposing or reimagining sustainable materials.
The truth is, there are many different styles and processes used by our artisans and independent designers to create their bags. Often, these processes are a reflection of cultural traditions or materials that are abundant in their country of origin.
We have previously looked at how the use of wicker has evolved, culminating in the stunning Wicker Wings collection.
In the case of Ukrainian brand KATE • CHI, it is the use of wood to create the signature sidewalls that speak not only to the creativity of the brand's founder, Kate Chimeris, but also her affinity for wood as a material.
Kate Chimeris explained: "The first reason [for using wood] is the unique texture of wood - you can't find two pieces of wood that are exactly the same."
KATE • CHI White Crossbody
Uniqueness and natural variations are some of the bonuses of owning a handmade handbag. However, in the case of KATE • CHI, there are also practical considerations for the wood. 
Kate added: "The second reason is that the wooden sidewalls give the bag a nice shape and work as a framework. I, personally, like a smooth surface of nicely sanded wood."
To some extent, every designer is influenced by their surroundings and upbringing. It seems fitting, therefore, that a Ukrainian designer would choose to incorporate wood into her creations.
Located between Poland and Russia, Ukraine also shares its borders with the Black Sea, Romania, Slovakia, Moldova, and Hungary, leading to it being known as 'the bridge between Europe and Russia'. There are approximately 42.5 million people in Ukraine, and the population is multi-ethnic. This melding of cultures, particularly along the borders, has facilitated a mixture of influences that can be seen in food, fashions, and arts within the country.
Photo by Maxim Lugina on Unsplash
Ukraine has a surface area of 233,090 square miles (only slightly smaller than the US state of Texas), and more than 15% of the country's area is forest. The main species of trees in Ukraine are Scots pine and Oak. Ukraine is an intriguing mixture of heavy industry and fertile agricultural land which readily lends itself to wooden construction.
It is not surprising, then, that wood is very much part of Ukrainian culture and history. The basis of most of Ukrainian culture is folk culture and, in addition to other crafts such and pottery, painting, and embroidery, wood carving is one of the oldest arts in the country. The Slavic people have been renowned for wood carving since the XI Century, and wood continues to be in plentiful supply within Ukraine's borders. 
Tradition is very important to Ukrainians, and the younger generations are happy to keep traditions they have grown up with very much alive in the modern world. This is particularly true in the villages and small towns, whereas larger cities such as Odessa and Kiev have evolved into more cosmopolitan areas. For example, the national dress of Ukraine, vyshyvanka (a colourfully embroidered shirt) has become a fashion item around the world, thanks to new interpretations by Ukrainian designers such as Vita Kin. Celebrities such as burlesque performer Dita Von Teese have been spotted wearing vyshyvanka. 
Kate Chimeris resides in Kiev, and exudes an air of minimalist sophistication, which is reflected in the unfussy style of her designs.
KATE • CHI Beige Crossbody
KATE • CHI handbags do not look handcrafted in the traditional sense, they look slick, modern, almost utilitarian. However, there are up to 40 steps that go into creating each bag, a meticulous process that relies on the same attention to detail that is needed for embroidery or handweaving.
Then, there is the use of wood as the foundation for the bags. KATE • CHI handbags are made using Ukrainian walnut and alder wood.
Kate's credits her father with the initial inspiration for using wood in her creations. 
Kate said: "I didn't consider woodworking traditions when I designed my bags. However, my father made a living making furniture from wood, so I think I was always aware of its raw beauty and resilience."
KATE • CHI has devised a more contemporary use for wood in the brand's signature wooden sidewalls. Leaving them untouched, apart from having the rough edges sanded down, allows the wood's natural beauty to shine through. The bags are minimalist, with the wood being paired with genuine Italian leather and finished with subtle stitching and Italian fastenings.
KATE • CHI Tan Crossbody
If the wood was purely structural, the side walls would be covered. But it is this very feature that elevates a KATE • CHI design into something very special. 
As Kate herself said, every piece of wood is unique, which means that no two KATE • CHI handbags will ever be identical.
When you buy a KATE • CHI bag. you can guarantee that your bag is one of a kind. 
The same is true of each handbag we sell here at Sophie Summer. No two are ever the same but each bag is a work of art. 
You can shop the whole Sophie Summer collection or find out more about our mission and founder.