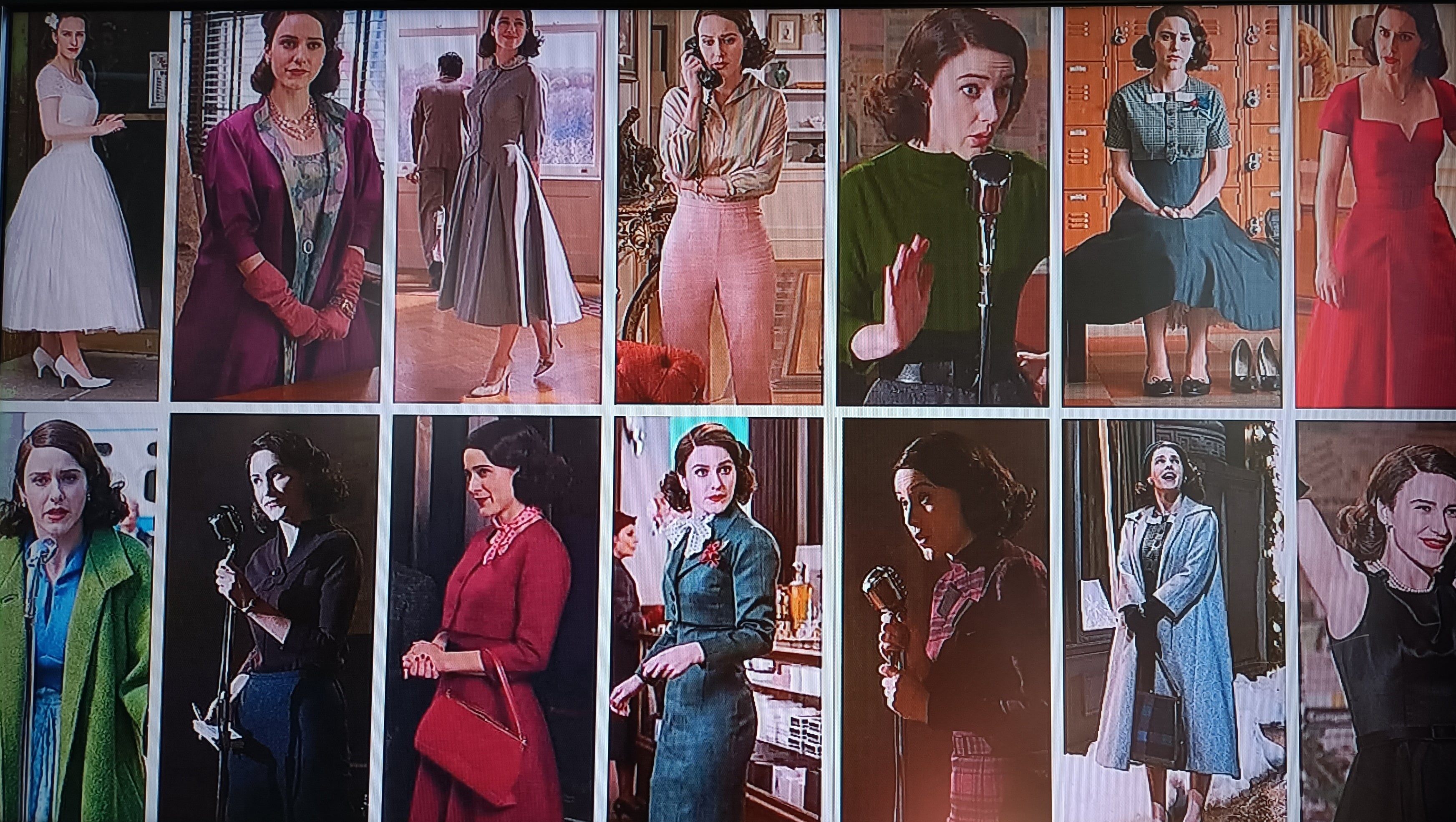 BAGS ON TV - The Vintage Edition
Our bags on film blogs consistently appear among our most-read content, and here at Sophie Summer, we like to give you more of what you want.
We also like to make sure we offer something unique.
That's why, this time, we're focusing on the small screen for our fashion fix. 
Yes, welcome to the first instalment of 'Bags on TV', the vintage edition.
Instead of just listing our favourite bags from each show (there are far too many!) we've chosen Sophie Summer bags that we think best match these iconic female characters.
While we adore the sumptuous couture seen in period shows such as Brigerton, Reign, and The Tudors, the handbag wasn't a 'thing' until the 1920s!
The TV shows we're concentrating on today are all in the 1950s and 1960s, when the right handbag had become one of the finishing touches to any outfit.
So, without further ado, let's kick things off with one of our recent favourite shows, The Marvelous Mrs. Maisel.  
The Marvelous Mrs. Maisel
It's only been a few weeks since we bid a fond farewell to Midge, Susie, and the whole 'Maisel' clan. We miss the quips, the friendships, the poignance, and the clothes!
Midge was always beautifully attired. Yes, even in the infamous nightgown that she 'wears' to perform her first-ever impromptu stand-up routine. 
From the exquisite dress and shorts ensemble she chooses for a boat ride with Benjamin to her endlessly chic skirts, suits, and cocktail dresses, Midge always understands the assignment.
While gloves, hats, and coats were her primary focus, each outfit included a perfectly chosen handbag. Sometimes classic, others kitsch, Midge's sense of whimsy was often reflected in her accessories. 
In the Catskills, for example, her handbag to accompany her beautiful lemon floral dress resembles a small yellow wicker picnic basket. In our favourite striped dress and shorts set, she accessorises with a straw hat, white sunglasses and a compact white wicker purse. When touring with Susie, her beach bag is pink with a large purple flower.
Thanks to flashbacks and flashforwards, we see Midge in the early 1950s up to the 1970s and 1980s. 
Unsurprisingly, the show won an Emmy for Outstanding Period Costumes in 2019, with head costume designer Donna Zakowska going on to write a book entitled Madly Marvelous: The Costumes of The Marvelous Mrs. Maisel. 
Zakowska has talked about the meaning of the different shades of pink Midge wears throughout the show, with different tones signifying where she is in her personal life. 
She also dons more than a couple of wicker bags over the show's four seasons.
As such, we can see Midge being a fan of the Wicker Wings Kuai in pink.
Pretty and elegant, the Kuai would grace Midge's arm and match a whole host of her outfits. 
We can't promise it'll give you Midge's wit or resilience, but we do think it will bring you joy and help tie your ensembles together. Marvelous.
Mad Men 
When Mad Men begins, it's 1960, the start of a new decade and advertising is king.
Don Draper is the central protagonist and Jon Hamm is mesmerising as the ad man with a dark past and a fairly murky present! 
But it is the female characters who often steal the show. 
Like Midge and Susie, the women of Mad Men were very different and had very different styles. Peggy, certainly in the beginning, was very prim and proper, wanting to be taken seriously in a man's world. Joan was a screen siren who happened to work in an office, and Betty was a perfect blonde Barbie, at least on the surface. Don's second wife Megan is an exciting mix. A woman of the next generation, she fuses natural French elegance with an experimental sense of colour, patterns, and cut.   
A former fashion model turned dissatisfied housewife, Betty dresses in feminine, somewhat traditional attire. Nipped-in waists and wide skirts gradually give way to sheath dresses, but the soft pastels, chiffons and silk fabrics remain. The pretty pink Moana beach pouch has just the right mix of sophistication and subtle playfulness to meet Betty's high expectations.
Peggy, as Joan points out dresses 'like a little girl' when we first meet her. In many ways, Peggy's style evolution is the most profound and most exciting. Her gingham dresses and Peter Pan collars become crisp white shirts, geometric patterns and a fun, slightly masculine colour palette. We feel the confident colours and practicality of the A A K S Bika yellow shoulder bag would suit final season Peggy to the ground. 
Joan, of course, is all woman. Christina Hendricks' Rubenesque figure is poured into a series of mainly jewel-coloured fitted dresses. There is an oriental feel to some of her outfits and accessories, such as her floral kimono and the stunning ice-blue Cheongsam she wears to dinner. As such, we think the striking GUSTOKO by Paula Figueras Mei clutch would appeal to her sense of style.
Megan represents the future. She always looks perfectly put together yet her style appears effortless and there's a strong streak of artistic flair in many of her looks. We think the controlled chaos of the colourful Baguio beach pouch by GUSTOKO is a great match for Megan.   
Running for 10 seasons Mad Men won 16 Emmys from a vast 116 nominations. Although it was nominated for 'Outstanding Costumes for a Series' multiple times, it never won. A travesty, if you ask us. 
Frankly, we could write several columns on the fabulous fashions showcased by the stunning women of the show. We haven't even touched on Roger's second wife Jane Siegel, nor the many women Don 'loved' and lost but never married.
For now, though, we'll move on to another show that showcased 1960s fashion.  
The Queen's Gambit
Anya Taylor Joy became a fashion icon and was catapulted to superstar status for her arresting performance as Beth Harmon in The Queen's Gambit.
As you would expect from a show and a character centred around chess in the 1960s, geometric prints, particularly checks, feature heavily. 
Once she started making money, Beth spent it mainly on aesthetics - either clothes or furniture and accessories for her home. 
Since a bag is unnecessary for a chess competition, sunglasses, hats, and headscarves feature more prominently than handbags. It is the absence of handbags that makes those shown so special.
We get a tantalising glimpse of a clutch bag here and then when Beth is socialising or shopping, but she's most often shown carrying nothing, or a small suitcase. 
In Paris and Russia toward the end of the series, she ups the style stakes once again. We're treated to a beautiful black and white bag, worn with the iconic pink checkerboard coat. It makes a second appearance with another outfit, and Beth also carries a white, fan-shaped handbag.
The final scene sees Beth dressed in a white coat and hat, emulating the shape of the white Queen in chess. Once again, her hands are unencumbered (where does she keep her keys?!) to preserve the silhouette. 
If we were to choose a Sophie Summer handbag for Beth, we'd have to go with the Juanma tassel tote. 
Not only is black and white, but it's a timeless design, perfect for the beach, should Beth take a relaxing holiday - and we think she should! 
So there you have it. Do you agree with our picks? Are there any other shows you'd like us to cover? Let us know in the comments!
In the meantime, you can check out the full Sophie Summer bag collection and binge these classic shows on your preferred streaming system.
Enjoy!